Christina Bollino ~ 500hr ERYT, BeachBee Yoga Studio Owner/Manager/Lead Instructor
Christina leads the BeachBee Yoga team as the studio owner / lead instructor/ manager and holds a 500hr teacher training from Yoga on York located in Baltimore, Maryland. Christina is a professionally trained ballroom dancer and has been teaching dance since 2002. Her strength and grace on the mat is a result of dedicated dance training and she easily incorporates that elegant movement into her yoga classes. Christina also enjoys gentle and restorative teaching with a focus on promoting relaxation and stress reduction. She began her journey on the mat as a teenager and was immediately drawn to the wonderful mind, body, spirit, and holistic health benefits from a constant yoga practice and found it to be a nice compliment to her dancing.
Christina is a certified personal trainer, fitness instructor, and health coach with a Masters in Nutrition and Integrative Health. Her goal with clients is to help them achieve optimal health so she regularly mixes up her yoga classes and teaching style to incorporate barre, pilates, cardio, and strength training to keep clients engaged and excited about coming back to the mat time and time again.
Beckie started practicing yoga daily in May 2019 by following online videos before work. Her relocation to the USA later that year gave her the opportunity to make this an "in-person" routine with Beachbee and she is grateful for all the opportunities that followed, particularly the 200 Hour Yoga Teacher Training which she completed at the studio in March 2021. Her previous work in the field of mental & behavioral health influences her practice as she emphasizes the mind-body connection. She is into all things wellbeing and enjoys seeing people doing the self-care they promote for others. She loves being outside; in the woods, on the water or in the hills and get silly-happy when she sees animals in their natural environment.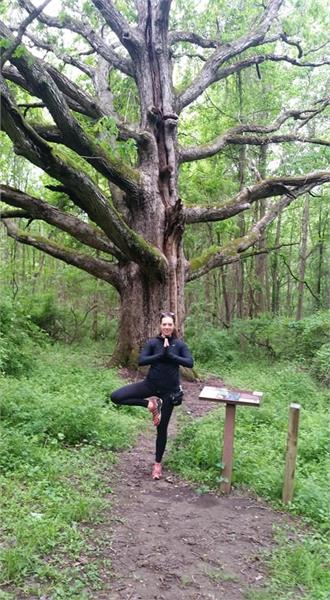 Courtney Savage